The Just Enough to Get By Award
Recognizing those who aspire to be slightly less than average
by Adam Brown
Work sucks. People who work hard suck even more. Do I say that because I'm some sort of elitist "writer" who frowns on those who slave away at menial jobs just to put food on the table? No, I say it because I work a menial job myself and I hate it. While working, I make it a point to exert the bare minimum amount of effort required to not get fired. But there is always some kiss ass lurking around busting his ass while making the rest of us normal slackers look like, well, slackers. I hate those people. You hate them too. Unless of course you ARE one of those people. In that case, we all hate you. That is why we here at Maximum Awesome have decided to a special award to those barely working men and women out there that do just enough to get by. We call it the Barely Working Men And Women Out There That Do Just Enough To Get By Award.
Today, we honor Moore's Teriyaki Marinade. Specifically, we honor whoever is in charge of writing the recipes that appear on the label of their products. I trust that there is no shortage of creative things you can do with teriyaki chicken. You could make a stir fry, whip up some sort of exotic Asian salad or even taint it with arsenic and feed it to that neighborhood dog that won't stop barking while you're trying to sleep. The possibilities are endless. But the people at Scott's understand that creativity is for suckers, especially when you can just as easily tell someone how to make a sandwich and call it a day. That's right, the back of their bottle features a recipe for a teriyaki chicken breast sandwich. Not some labor intensive grilled panini type monstrosity either; just bread, chicken and maybe a little lettuce if you can be bothered to reach to the back of the refrigerator for it. The slacker hero responsible for this "recipe" somehow manages to stretch "cook chicken, put it on bread, eat it" into a perfectly legitimate looking paragraph. Well done, you lazy bastard. Well done indeed. Furthermore, I would be remiss if I didn't give some sort of nod to the supervisor of whoever wrote this tribute to inactivity that they call a recipe. They could have just as easily laughed and sent this poor worker bee back to the hive to slave away over writing something more complex. But they didn't. They probably had a round of golf to play or something. You, Mr. or Ms. Supervisor, are a friend to sloths everywhere.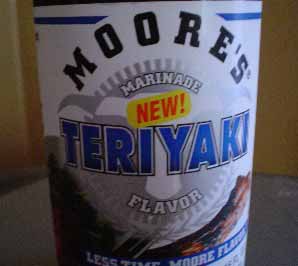 You're probably wondering what exactly it is that the people at Moore's receive to commemorate this grand achievement. The answer to that is simple, they will get nothing. I suppose I could photoshop up some fancy ribbon for them to place on their website, but screw that, I have relaxing to do. My television isn't going to watch itself.