Funeral for a friend
Love lies bleeding on my glossy 8x10 Hammermill paper
by Dave McAwesome
For a dozen years, I called you my friend. You were always there for me. College. Term papers. Drunken midnight orgies.
I recall all those lonely nights while I worked on the computer. You were there at my side. Quiet. Reassuring. Your stoic presence encouraged me through dusk and dawn, through indecision and burnout. When I'd step away to catch a rerun of Barney Miller, there you'd remain, admonishing me with your silence when I returned.
How many times did I offer you a beer? You always refused but never rudely. "Important work afoot!" you reminded me - not with words but with that self-confident gaze of yours. You gave me focus. For that and so much more I am grateful.
I wish I got the chance to give back as much as I received. Remember the walkthrough for Zelda: Ocarina of Time? Oh, what fun we had. You are a bluebird on a telegraph line!
Now you are gone. Your light has faded. The low mechanical hum of consciousness is silent. The roses in the window box have tilted to one side. Twelve long years...gone like a click of the mouse. I cradle your industrial plastic body. Love lies bleeding in my hands.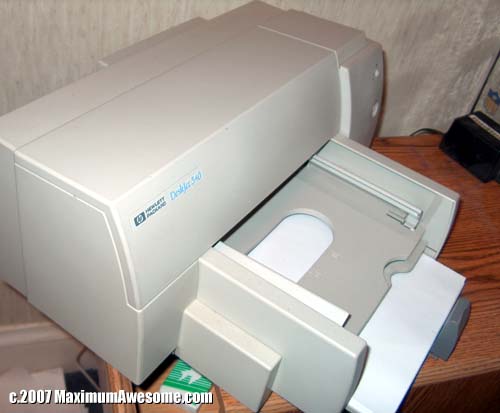 This 1995 Hewlett-Packard HP 540 black and white inkjet printer served proudly for 12 years. Hail! You will be missed, dear appliance.