The Sticky Month of May
Come on! Give yourself a hand. It's National Masturbation Month.
by Malfouka
Once upon a time, U.S. Surgeon General Dr. Joycelyn Elders dared utter the sentiment, "Masturbation is something that perhaps should be taught". As you can imagine, this did not exactly toast the tootsies of the American public. Elders was fired and folks everywhere went back into their caves. It was a dark time indeed.
However, there was a small—yet excessively libidinous—contingent of San Francisco malcontents that that refused to let their collective hands be tied and in May 1995, National Masturbation Month was born.
Yup. You heard me right: National. Masturbation. Month. And since then, May has never been stickier.
Why, you may ask, do we need a month—or hell, even a day—devoted to something as basic whacking off? Everyone does it!
While it is true that the majority of people masturbate, it is still widely considered a degrading act that is secondary to and/or done in place of partner sex. Furthermore, though everyone is doing it, no-one talks about it in any meaningful way—most of us still regard the notion of sexual pleasure for the sake of pleasure itself to be puerile and shameful. Frankly, these attitudes are stupid. Masturbation is not only great for your mental, emotional, and physical health, it's sex positive and won't leave anyone pregnant or diseased. Masturbation is also really, really fun.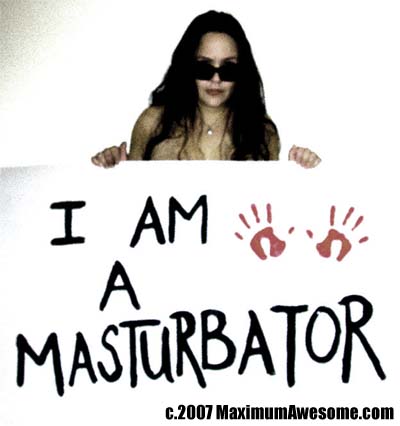 Eventually, what started as a lascivious protest and education drive has grown into something that has escaped the privacy of bedrooms everywhere. In 1998, the sexy folks at Good Vibrations decided to take National Masturbation Month a step further and introduced the annual Masturbate-a-thon. Initially, the Masturbate-a-thon was an on-the-honour-system charity pledge drive with sponsors giving money for every minute of masturbation completed. Since then, not only has the event grown, but has incorporated a live Masturbate-a-thon where participants, sponsors, voyeurs, and performers come together—heehee—for a day of lubricious fun. In addition to the general jacking-off, competitions such as: Longest Squirt Distance, Longest Time Masturbating, Most Orgasms and Tag Team Fun serve to emphasis that masturbation is not only hot but entertaining for everyone.
So, come on out of the self-abuse closet you filthy pervs, break out the lube and Hitachi's and say it with me, "I masturbate and I like it!"
Masturbate-a-thon and Good Vibrations are some filthy, perverted links for ya.