Dragon Quest VIII
What happens when the two greatest RPG-makers in the biz merge? Well, what do you think?
by Wootini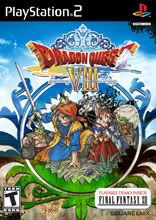 So the makers of Final Fantasy and Dragon Quest teamed up, and since FFXII is taking forever to come out, SquareEnix has released the newest title in the Dragon Quest series, Dragon Quest VIII. And you know what? The damn thing is so awesome that the demo disc of FFXII that came with it hasn't even gone near my PS2 since I got the game for Christmas.
In a slight variation on the boy who discovers he's saddled with the resposibility of saving the universe theme of most RPGS, DQVIII has you playing a soldier under the command of a King who has been cursed to appear as a troll-like monster, and you gather up allies to help you defeat the sorcerer who cast the spell over the King and his entire kingdom. So while it's up to you to save the day, it's not like you're just some random kid who finds out he has to save the world. That's always a hell of a way to wake up in the morning. Plus, the storyline unfolds slowly and deliberately, giving new dimensions to the characters as it goes, so there's always something more to discover.
The graphics are unbelievable. Instead of going for ultra-realism, they got the guy behind Dragonball Z to design the characters, and the art style is cell-shaded brilliance. The trick I think is that cell-shading is often a shortcut to simplify things, but in this case, DQVIII is full of detail, from the characters down to the environments. It's just the detail is cartoony. The characters and monsters animate perfectly, with great facial expressions and movements. Especially the dancing. No, seriously, some monsters cast spells on you by dancing and make you miss a turn because you're caught by the dancing bug. I can't make this stuff up!
That's what really makes DQVII work: The humor. While the story does have some very dramatic moments, their power is amplified because you've already fallen for these characters through laughter. Yangus, in particular, is a riot, especially with his Cockney accent. The voice-acting is pretty good, with lots of British accents and a few other European styles thrown in for good measure. The music can get repetitive, especially if you spend a lot of time exploring the overworld. Which you're going to want to do once you get powerful enough, since it's utterly gorgeous to look at, and there's plenty of little treasures hidden away in the various nooks and crannies.
Yeah, the battle system is pretty traditional, with turn-based attacks and spells, and it's all pretty much by-the-numbers, but that's not necessarily a bad thing. We need more RPGs done right. I could've done with some more save points, mostly in the middle of some of the longer dungeons, and one of the bosses required a lot of leveling up before he could be defeated, which got tedious. But Dragon Quest VII is a terrific story with amazing visual style and a whimiscal sense of fun and adventure that will have you glued to your PS2 for hours. A lot of hours. Try 40+ hours. But when you're having this much fun, you won't want it to ever end!