You Say You Want A Revolution?
Nintendo Revolution Controller
by Wootini
Well, we still don't know much about Nintendo's next gen Revolution console, but at least they've finally unveiled the controller. And... um... it's a remote control? The hell?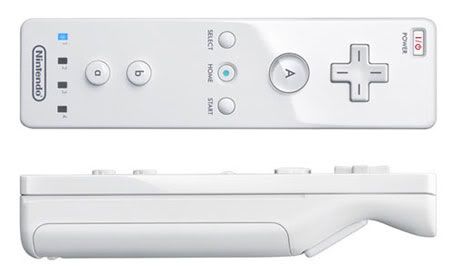 Essentially, you hold it like a remote control, and there's a D-pad and A button to press with your thumb, and a B button underneath as a finger trigger. There's other buttons strewn about (oddly enough, also a power on/off switch, which is a first), but they can't be convenient to press while playing one-handed. The remote also works as a kind of light gun, and you control the action on-screen by moving it left, right, up down, and whatnot. Either controlling your character or aiming a targeting reticule. There's also going to be attachments, and the one they showed off was an analog stick controller that plugged into the base of the remote, looking like nunchucks that you whip around at the screen.
Admittedly, this looks pretty dorky when you see it in action, but when you think about it, the light-gun aspect would probably make playing first-person shooters easier. Hell, on first sight, the GameCube controller looked like an awkward mess, but it became comfortable and second nature almost immediately after I picked it up. And as Nintendo proved with the DS, a gimmick isn't just a gimmick when you've got good games to back it up. We already know that Nintendo knows the videogame business inside and out, and continues to innovate. But the best console and controller isn't going to mean spit unless you've got great games to play on (and with) it. So we'll just have to wait and see.