In a normal season, an undefeated start would be cause for celebration.  However, a closer look at the Buffalo Bills defensive statistics reveals a troubling trend developing.  The Bills, while 2-0, are currently ranked 31st in the NFL in passing yards allowed.  Determined to fix something that isn't currently broken, Dick Jauron sprung into action.
"With Drew Brees coming into town next week, we need to find a way to put more pressure on the quarterback"
So you are saying you'd like me to make a trade?
"I've got the perfect guy in mind"
Who?
"Vernon Gholston"
Surely you don't mean the Jets rookie DE.  I watched the preseason.  Is there another Vernon Gholston that I'm not aware of?
"Nope.  He's our man.  Make it happen."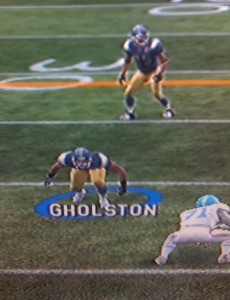 An uneasy phone call to Mike Tannenbaum followed.
Mike, I'm interested in making a trade.
"Look, we don't trade with teams in our division.  It's not gonna happen."
No, you don't understand.  I want to trade for Vernon Gholston.
"Hahahahaha.  Oh, wait.  You're serious."
Yes.
"OK, I'll take a bag of practice tees and an order of wings."
Practice tees delivered – the Vernon Gholston Reclamation Project™ is now officially underway.
With Jeff Garcia and Marshawn Lynch out, Vernon Gholston in, a driving rain of biblical proportions and AFL throwback jerseys on their back – Buffalo is geared up to face New Orleans at Ralph Wilson Stadium.  You might even say, "The Bills are ready for the CHOMPETITION".
During the pregame spiel, Collinsworth gives New Orleans the surprising edge in QB and coaching.  Following the obligatory "Nobody Believes in Us" speech, Dick Jauron leads the team into the tunnel.
Wait?  What's this?
Trent Edwards takes the field for the coin toss.
Either I read the injury report wrong, or Trent Edwards has the healing powers of Wolverine.  Evidently in Madden 2010, spinal cord injuries only take two weeks to heal.
Edwards proceeds to lose the coin toss.  Welcome back, Trent.
During New Orleans first possession, new defensive end Vernon Gholston is flying all over the field.  He's put heavy pressure on the QB, deflected a pass and tackled Pierre Thomas for a loss.   Vernon Gholston singlehandedly forced the first (of what likely will be many) three and outs.
Maybe it's rust, maybe it's the weather, maybe it's the fact that our QB is Trent Edwards – Buffalo is forced to punt after an offensive series that can at best be called "sloppy".
After another exchange of punts, Trent Edwards hits Josh Reed for a long completion to convert the first first-down of the game.  Collinsworth?
"Trent Edwards is really feeling it out there.  Normally, he's not a guy to hit a bunch of passes in a row, but he's on a roll now."
Third and goal from the Buffalo 1 yard line.  Xavier Omon lines up as the deep back.  The New Orleans defense, seeing Omon in the backfield, starts laughing uncontrollably.  Edwards takes the hand off, tosses it right to Xavier Omon, and Omon runs into the end zone untouched.
Xavier Omon: the 2009 version of Mike Alstott.  3 Games. 3 Carries. 3 TDs. 4 yards.  Xavier Omon, touchdown maker.
Following the touchdown, Buffalo shanks the ensuing kickoff out of bounds.  Four plays later, Pierre Thomas is bowling past people for a touchdown to end the first quarter.  7-7.
Buffalo responds by going three and out, followed by Drew Brees torching the Buffalo secondary mercilessly.  Devery Henderson catches a third down pass, but lands out of bounds.  New Orleans kicks a field goal to lead 10-7.
Trent Edwards does his best Trent Edwards impression and fails to move the chains.  Buffalo punts and sets up New Orleans with good field position.
On the ensuing possession, Vernon Gholston sheds his blocker and barrels towards Drew Brees at full speed.  Brees launches an ill advised pass right into triple coverage, and Paul Posluszny records his second interception of the short season.
Buffalo marches into long field goal range on the back of Fred Jackson.  TO is called for holding on the field goal attempt, forcing yet another Buffalo punt.
Frustrated with the Bills inability to move the ball, Paul Posluszny fakes a blitz, drops into zone coverage and intercepts the very next Drew Brees pass.
Not to be outdone, Trent Edwards heaves a hail mary pass into a crowd of 5 Saints DBs as the second quarter expires.
First Half Statistics:
New Orleans: 181 passing yards, 32 rushing yards, 2 turnovers
Buffalo: 104 passing yards, 33 rushing yards, 1 turnover
The third quarter begins much as the second quarter left off.  Roscoe Parish fumbles the opening kickoff.  Drew Brees punishes the horrible Buffalo secondary, and the Saints lead 17-7.
I look over and notice Dick Jauron has a twinkle in his eye.
No Dick, don't do anything stupid.
"5 WR set – All streak, I feel it."
No Dick, I'm begging you.
"It's now or never."
Fine.  Never.
"Too late."
Before I can turn around, I hear the crowd cheering wildly as TO is streaking down the sideline with the ball.  TOUCHDOWN BILLS!  Edwards hits TO with an 83 yard bomb.  OK technically a 20 yard wounded duck followed by a 63 yard streak by Owens.  The Bills now trail 17-14.
On the ensuing drive, all world DE Vernon Gholston tackles Pierre Thomas and forces a fumble giving Buffalo excellent field position.  Fred Jackson loses 5 yards on a halfback toss, Edwards gets sacked twice, and the Bills face fourth and long from the 29 yard line.  The Bills line up for the game tying field goal, only to have it negated by a holding penalty.  Next attempt – false start.  In trots Moorman for the punt.
Reggie Bush takes the failed coffin corner kick back to the 40 yard line, yielding a net punt of 3 yards.  Drew Brees hits Devery Henderson for the long TD, making the score 24-14.
Buffalo answers the long scoring drive with a three and out.  Somehow the Bills are able to contain Drew Brees to only 60 yards passing on the next drive, forcing the Saints to kick a field goal.  27-14.
The Bills open the fourth quarter down 27-14 facing 4th and 22 from the 50 yard line.
Dick Jauron orders a play action pass.
Dick, cut the shit.  Edwards has been sacked 6 times today, we aren't calling play action pass.
"Great idea!  Play action pass.  I was thinking the same thing."
Dick, I hope you get fired.
With New Orleans showing blitz, Edwards smartly audibles to a HB screen pass at the line.  Fred Jackson slips out into the flat with three blockers in front of him.  Edwards, hit as he threw,  is way off target.  Somehow, Jackson is able to catch up with it.  But, unfortunately the pass leads Jackson outside of his blockers, and he is met by the LB at the point of the catch.
"Oh no, game over."
Fred Jackson summons his inner Bo Jackson,  and throws the LB to the ground with a vicious stiff arm.  Open field in front of him, he continues untouched for the 50 yard score.  27-21.
New Orleans chews up the clock with a series of running plays, followed by a punt that backs up Buffalo to their two yard line.
4th quarter, 3:29 left, down one touchdown – there are few people in the NFL that I'd rather have leading my team down the field than Trent Edwards using plays called by Dick Jauron.  By few, I mean almost all.
Using the shotgun spread with 4 WR and Fred Jackson running various routes sounds like the best way to move down the field in a hurry.  However, the Bills offensive line is horrible, and it becomes a high stakes game of chicken.  After each snap, there are between 3 and 17 New Orleans players running unabated at Trent Edwards.
2:03 – 3rd and 4 from the 44 yard line, Trent Edwards hits Josh Reed on a seam route for the first down.
1:37 – 3rd and 10 from the 25 yard line, Trent Edwards again hits Josh Reed on a corner route.  Evidently, someone forgot to tell Reed to get a first down, as he fell 1 yard short.
No problem for Fred Jackson.  HB dive up the middle, first down and timeout.
During the timeout, Chris Collinsworth named Drew Brees player of the game.
But wait…
Out of the timeout, Buffalo lines up in a goal line set, with XAVIER OMON as the deep back.
Xavier Omon – Touchdown Maker.
Edwards, fakes to Omon… play action pass!
Buffalo TE Nelson is open in the flat – touchdown.  That reception gave Trent Edwards 400 yards passing, but more importantly, gives Buffalo the lead 28-27.
A squib kick gives New Orleans the ball back with 10 seconds remaining.  Brees lines up and throws deep to Colston, but he is tackled at the 30 yard line giving Buffalo the upset win.
Game Stats:
New Orleans: 424 yards passing, 55 yards rushing.
Buffalo: 405 yards passing, 60 yards rushing.
Trent Edwards: 28-42 405 yds, 3 TD, 1 INT
Drew Brees: 40-54 424 yds, 2 TD, 2 INT
Vernon Gholston: 9 tackles, 3 assists, 1 sack, 1 fumble recovery