We're at the point in the season where the auditions should be over, but they are sadly not. With this year's parade of mediocrity, listening to the good singers is a chore and the misanthropes are surprisingly unsurprising. The judges comments merely echo the sound bites found on the video game version of the competition, with the guest judges being little more than props or eye candy, depending upon which side your bread is buttered. To paraphrase the Joker, this show needs an enema. But this is still American Idol. "Kids, you tried your best and you failed miserably. The lesson is: Never try."

Tonight we're auditioning in Dallas, Texas, a place Ryan reminds us has been full of fools and talent. Mostly fools. Flashbacks. There's that kid who threw water in Simon's face. There's that chick who slipped and fell under the judge's table. Several cows are seen on screen. Some of them are human and in line to audition. There are the Dallas Cowboys cheerleaders, each possessing the admirable skill of jumping up and down to make their lady-bumps jiggle. Who needs college, eh? Ryan acts like the cheerleaders excite him, but he really just wants to wear the hot pants. He reminds us that Dallas is the place where Kelly Clarkson auditioned, except that footage was never shown until syndication, so don't lie to me, Short Stuff. I know my Idol trivia.
Tonight's first guest-judge is Neil Patrick Harris, mostly known as Doogie Howser, M.D., also known as Barney Stinson on How I Met Your Mother, sometimes known as Dr. Horrible, and soon to be known as my sugar daddy. He acts, he sings, he dances, and, amazingly, he can rock a sweater vest like nobody's business. NPH agreed to do this show to just to get my attention. Now that he has it, he's free to call me. He totally wants to.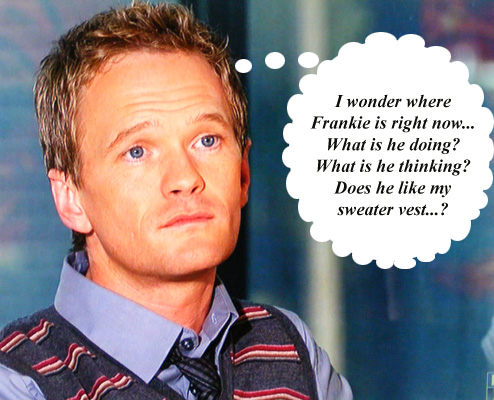 First up is Julie Kevelighan, 28, who auditioned in Season 1, with a high-pitched, tone deaf version of "Lady Marmalade." Now she's back like herpes, wearing an ugly, teal, sequin-covered dress that's too low at the top and too short at the bottom, with a hankie pinned across her chest. Is that for showin' or for blowin'? She's applied matching eye shadow to her face by using her feet. NPH: "Sparkle…" Julie's cover of "Black Velvet" is only moderately better than the original song, which I hate, and she has learned nothing in the many years since we've last seen her. Vocally, she's an Escher painting. Rejected. Julie then sings a variety of songs as she exits. "Over the Rainbow." "Something to Talk About." She tries to sing for Ryan, but he has his own problems. "I should've took a deep breath before I sung." Yes, Julie. That's it, exactly.
Lloyd Thomas, 29, is the reincarnation of Fred "Rerun" Berry, bless his dead heart. He's a dock worker with two little kids. Grew up in the projects. Is this a Sob Story? I can't tell. Lloyd sings Stevie Wonder's "Overjoyed" beautifully. The judges are impressed, and Kara says, "Come on, this guy's working the docks with that voice!" But I hear "docks" as "ducks" and think "ducks" is a new vocal term, as in "Dog, your voice is good, but you gotta work on them ducks during the key changes." Whichever it is, Lloyd is heading to Hollywood. Hey-hay-hey!
Kimberly Carver, 26, is a bit of an amazon, but sings a nice enough version of some song she made up herself. She's loud, but as a school teacher, I imagine she spends a lot of time yelling at brats. To me, she's got a Broadway voice. Lots of projection. Simon doesn't think Kimberly is current. He feels she isn't terribly interesting. NPH disagrees, and is like, "Let's vote." Because make no mistake, if NPH is here, he's captain of the ship. Kimberly gets through to Hollywood, and we'll never see her again.
Dexter Ward is a queer little fellow who wears big sunglasses and can't seem to get a handle on properly pronouncing words when he speaks. His hair, which is black, is sculpted up to a little orange point, like it's afire. His claim to fame was that he was on the local news the night before auditioning, so look out America, he's obviously the next Idol. "When I come through that door, I weh have a golden ticket. So fllapp further ado, let the gains begin." Then he sings like he's riding a Tilt-a-Whirl while pleasuring himself with a vibrator. Rejected.
Ryan takes a private interview with NPH. Really, Ryan? Has this ever happened in the history of this show? She is so obvious! Ryan wants (NPH's phone number) to know what NPH thought about the day's contestants. "I've been surprised by the talent," says Neil. Ryan wants (to touch NPH's penis) to know if it's tough to be honest with the kids. "People get reamed out every single week on this show," says Neil. Ryan hears "reamed" as "rimmed," so he drops his pants and bends over. Ducks, my friends. Ducks.
Erica Rhodes, 23, was one of those cutesy showbiz kids from the cast of Barney & Friends. You know, the ones who were so precocious you'd want to feed them to an alligator? In an effort to get away from her past, Erica decided to audition dressed as a dominatrix. But soft core. Flaccid core. Like she wants to titillate us, but with small tits. There's also a whip, and this shit is highly unnecessary, because Erica can sing. She performs the Barney theme tune. You know, "I love you/you love me," then some En Vogue. Good voice, but a little…eh. Shrill, I guess. But the judges like the cut of her jib, and Erika is through to Hollywood.
Dave Pittman, 27, has Tourette's Syndrome. Now we're cookin' with gas. He's not a bad looking bloke. Kind of a busted-up nose, but tall and fit. Lots of little ticks, blinking, and throat clearing, but no cursing. Dave sings some Sam Cooke and it's good. Really good. No Tourette's action at all. The singing overides the disorder, which begs the question, why not sing all the time? The judges enjoy him much, and Dave is going to Hollywood. Here's hoping he makes it to finals and let's loose a loud "Cunt!" on live TV.
For Day Two in Dallas, NPH is gone (but hopefully, heading to my house). His replacement is Joe Jonas of the Jonas Brothers. Joe isn't the gay one. That's Kevin. Except Kevin just got married, so maybe Kevin is the straight one. Nick is the cute one. Also, the diabetic one. And I'm pretty sure Nick is the other straight one. So Joe might actually be the gay one. He's not the smart one. That's also Nick. Joe is the virgin one, for sure. And Nick is the other virgin one. Kevin has done all kinds of intercourse by now. He might have even done oral. Unless that's against God or Mickey Mouse or whoever those boys answer to, with their Purity Decoder Rings. ("Be sure to drink your Ovaltine — and abstain!") A hummer might not even count if the lights are out and you're wearing a t-shirt. But tonight we've got Joe, thankfully looking less like Michael Jackson and more like a scruffy lesbian. He contributes nothing.
Todrick Hall, 24, was in "The Color Purple" on Broadway, with Idol alum Fantasia Barrino. He sings a self-referential song of his own devising, "Todrick is my name, and I'm here to play a part in your game…" Oh, he's a wee menace, this one. But he's talented and will look good on MTV or wherever the hell they play videos now. Hollywood.
Maegan Wright, 20, has blonde hair like sunshine and dresses like she's been dumpster-diving behind Wal-Mart. Short white shorts. A tacky blue tank top with "BREAK THE RULES" screaming from it. Lots of beads and shit, around the neck. Her parents are divorced and her little brother is about 8, going on shut-the-fuck-up. Maegan has a pretty voice, and she surprises the judges by not being as overwhelmingly trailer park as her appearance suggests. "I really thought this was gonna be a joke," says Kara. Simon likes the outfit. "If that's what makes you comfortable, than fine." The man wears white Hanes t-shirts ninety-percent of the time. Did you think he was gonna get all Tim Gunn on her ass? Hollywood for Maegan.
Vanessa Johnston is the movie 2012 as it rapes Avatar in the eye while vomiting Pepto-Bismol. Here she is, singing and picking her shorts out of her crotch.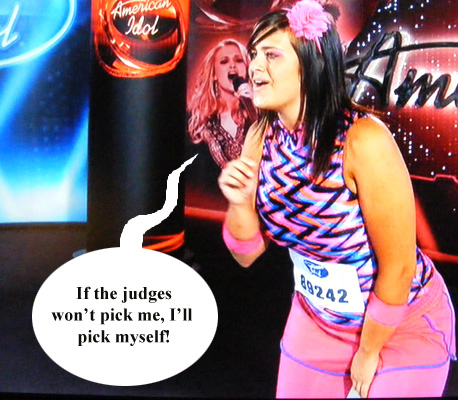 You're welcome.
Sob Story. Christian Spear, 16, was diagnosed with leukemia on her fourth birthday, which isn't as marketable to this wonderful show as having leukemia right now, while auditioning. But auditions aren't over yet, and the producers still have time to find someone who's actually dying, or maybe even a leper. Christian has been in remission for eight years, which is lovely. Christian is lovely. And Christian has a  lovely voice. So move along, people. Nothing to see here. And — oh, shit. That's the end of the episode!
Next week, more painful insanity as the try-outs continue for another two nights. Then, if this show hasn't killed me, we'll reach the glory of Hollywood Week.
Boop!
-Frank