Hey, where are my Idols, looking worried and/or cocky as Seacrest starts the show? This episode begins with recap clips of last night. No sign of the gang. Lazy producers. Here's what you missed: Smokey Robinson glared at us with demon-eyes, Paula wore a tutu, Randy continued to be parody of himself, and Simon kept it real. Also, Kara was present. Mostly, a bunch of soon-to-be-forgotten people sang the hits of Motown. This is American Idol. Why don't you dance with me? I'm not no limburger.

Ryan makes his grand entrance and introduces the judges. They are, as always, a welcome but irritating sight. Why is Ace Young in the audience again? Doesn't he have a TV at home? And there's Terrance Howard, the actor formerly known as Rhodey. Way to drop the ball, Terrance. Then there's another on-air recap from last night. Is this necessary? They must think our memories are as bad as Paula's.
Group Sing. Motown Medley. I just want to toot my own horn and say that I totally called this lip-syncing thing. It actually became news this week. So suck it, Associated Press. Apparently the poor Idols can't handle the stress of singing live and having to move around and remember so many words. Aw, the dainty babies! What are they gonna do on the live tour? Have we, as a society, learned nothing from Milli Vanilli?
So anyway, Allison, Lil, and Megan sing "You Keep Me Hangin' On," moving like the Supremes while looking about two-thirds whiter. Megan has her own ideas of what the choreography should be. Next, Matt and Lil launching "You're All I Need to Get By" with Allison and Scott stepping in. Matt is very pasty, like in Dangerous Liasons when that chick got consumption. Scott makes eye contact with Allison while not actually making eye contact. That's a skill. The other Idols show up. Lambert is back to being a girl.
"Ain't No Mountain High Enough" leads to chaos. The Idols are in the center of the stage, surrounded by, but far away from, a semi-circle of microphones. Then they're holding microphones. Then they aren't. Okay, so they're singing to a track on pre-recorded video. Live show, my hairy ass. Way to keep the backlash at bay, stupid, stupid Idol.
Ford Ad. Sung to Natasha Bedingfield's "Pocketful of Sunshine." The Idols drive their Ford vehicle into the Wolfram & Hart's White Room. Then they pull small paintings out of the rear and assemble them to form one giant painting of a tree-lined road. Then they get in the car, and drive into the painting. It's like that time on Guiding Light, when Reva fell into a painting, went back in time, and got chased by Nazis. That's what this show needs. Nazis.
Filler the First. Ruben Studdard shows up to sing the latest in his series of terrible songs. Within thirty seconds, he's sweating enough to fill the Great Lakes. Really, he could play on a Slip 'n Slide and provide his own slip. Dude is moist.
Eliminations…
Adam Lambert. Sang "Tracks of My Tears" in boy drag. He's safe.
Matt Giraud. Sang the filthy "Let's Get It On." America did not like. Matt is in the Bottom Three. Shock and surprise ripple through the audience.
Kris Allen. Sang "How Sweet It Is to Be Loved By You" cutely, but blandly. He's safe.
Michael Sarver. Sang "Ain't Too Proud to Beg" in forgettable, karaoke fashion. Matt is in the Bottom Three. Fair enough.
Lil Rounds. Sang "Heat Wave" like she was trying to put out a fire. Apparently this is the song that landed both Jennifer Hudson and Kimberly Locke in the Bottom Three. Lil breaks the chain. She's safe.
Filler the Second. Smokey Robinson and Joss Stone come out and sing a duet. Joss Stone is a chick? I had no idea. She reminds me of Fergie when she played that singer in the Poseidon Adventure remake, cleverly called Poseidon. Nobody lost sleep on that one. However, Joss lacks that certain "cool" that you get from being a former meth head and boffing Josh Duhamel. Smokey looks at her with his creepy eyes. He's like Voldemort up in here. Oh, and the song is poo.
Eliminations…
Allison Iraheta. Sang "Papa Was a Rolling Stone" and was a little bit fierce. She's safe.
Anoop Desai. Sang "Ooo Baby Baby" and induced me a nap. But he's safe.
Danny Gokey. Sang "Get Ready." The audience cheers for him because they're retardos. He's safe.
Megan Joy. Sang "For Once In My Life" like Phyllis Diller on a trampoline. She's safe. What?! Yeah. She's safe. Huh.
Scott MacIntyre. Sang "You Can't Hurry Love," sounding…like Scott. That is to say, fine, but unimpressive. Scott is in the Bottom Three.
To summarize: Matt Giraud, Michael Sarver, and Scott MacIntyre are the full Bottom Three set. Matt, unable to hide his disgust at this affair, sits there with a pickle-puss the whole time. He may or may not be a loser, but he is quite sore–especially when Scott is sent back to safety.
Filler the Third. Stevie Wonder shows up to sing a medley of his own songs, including the annoying "My Cherie Amour," the quite good "Superstition," and some other stuff of this nature. The Idols are beside themselves, dancing and carrying on. Anoop knows all the words. Lil and Kris are digging it, too. Allison and Megan hang on each other like drunks. For the record, Stevie is not singing to a track. He is singing live. Because that, bitches, is how it is done.
Eliminations…
Michael and Matt stand side by side. Good sport and bad sport, respectively. Bad sport wins. Matt Giraud is safe. Michael "Oil Rig" Sarver has the lowest number of votes.
Michael must sing for his life. "I'm gonna have to sing after Stevie," he says, "Holy crap." Probably his most endearing moment. He doesn't get all crazy-desperate like Alexis did last week. He doesn't try to hump the judges. The judges deliberate. Even after he's done performing. They can't decide what they want to do. Wow. Are they actually considering saving him? Seacrest approaches the dais to get them to make a decision. He's like, "It's live TV, asswads, let's go!" Michael waits with anxious anticipation and then–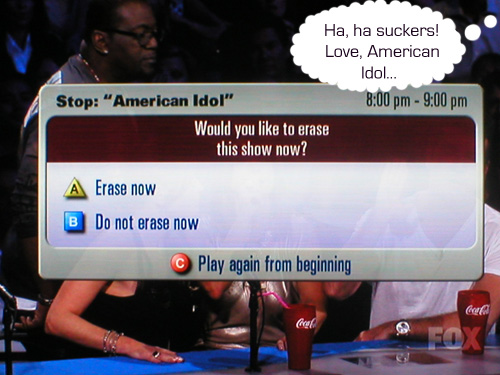 The show runs long. My DVR cuts out. And who the hell knows what happened!? Luckily, they talk about this show on the internet. You can find it if you know where to look.
The judges do not save Michael. He goes back to his oil rig. Adios!
Next week, the performance show shrinks to 90 minutes. Thank you and amen!
Squinch!
-Frank
Back to the season guide.